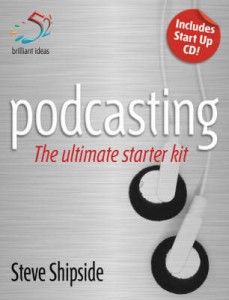 Podcasting was something I hadn't delved into but in anticipation of a course I was doing on Publishing Digital Media I decided to find out what was involved in setting up and publishing a podcast. Here I review the following book:
"Podcasting – The Ultimate Starter Kit", Author: Steve Shipside, Publisher: Infinite Ideas; ISBN: 1-904902-73-1
Rating: 10% (that's pretty dang bad!)
Essentially this book is nothing more than a list of online podcasts with a brief description of the podcast contents.
It might make a useful sticky on an internet forum (if it was frequently updated), but imho in book form it's a waste of paper. Won't someone please think of the trees 😀
If you don't know how to use a search engine then maybe this book is for you, you can read it under the Moonlight in the cave you live in while you feast on Dodo eggs and bat droppings :D. If you do know how to use a search engine, do so, and the results will be more up to date and relevant to what you want.
On the up side, there will no doubt be a few links of interest contained in the book. But the most interesting bits for me were the 'famous quotes' at the start of each chapter by other authors. These are something I usually enjoy in any book that has them. You know things like quoting Oscar Wilde: "I can resist everything, except temptation". But it's a reflection on how bad this book is, that the best parts are the quotes from other authors :/
And don't be suckered by the "52 brilliant ideas" label, that's mere marketing guff. Each chapter ends with a brief "Here's an idea for you" paragraph. Usually the idea is to check out some podcast or other. Well…
Here's an idea for you
Do save your money, do save your time, do save some trees, do use a search engine, don't bother with this book.
You can get a free podcast hosting service from PodOmatic.
And here's a great free audio editing software program called Audacity.
I learned more in the first 30 minutes of the podcasting element of the Digital Media course than I learned from this book.